Looking for Urgent Help to Write an Optimized Article?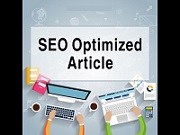 If you want your earliest or oldest posts to continue getting traffic, you should make the posts search engine-friendly when writing them. We understand that this is not easy for everyone and that's why we help those who need urgent assistance with writing optimized Articles for sites. Even if you need urgent help, we will deliver well written optimized website articles which correctly specify your Meta titles and whose Meta titles contain the proper keywords. Our team will also include Meta descriptions to your posts so that they can function as your blog post sales copies. To make your posts get maximum traffic, all your posts Meta descriptions will be optimized by inserting keywords in them. We will also link back to your earliest posts to make readers stay on your website for some time and to make search engines crawl those earlier posts again. This will minimize bounce rate since it will make your website navigable. The team of article writers here at Digi-Plus.co.ke always will deliver articles which are free from stop words and which contain proper heading tags.
Need Urgent Optimized Article Writing Assistance?
Companies and individuals who want quality and professional writing help for Optimized Website Articles can reach out to us for help now;
We offer fast optimized website articles writing help
Despite the large number of orders that we get from customers on a daily basis, it has been easy for us to offer scholars urgent help with writing their optimized website articles because we are professionals in this sector.
Need help from optimized website articles writing experts?
Our article writing experts are well-qualified and experienced, and therefore, they know what it takes to come up with optimized website articles which are capable of ranking better in the search engines.
Need timely delivery of your optimized website articles?
To us, deadlines are very important and should never be missed. Failing to meet deadlines can negatively affect our relationship with customers, and we do not want that to happen. We work hard to deliver customers articles before or within the time limit.