Professional Cover Letter Writers for Hire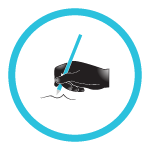 A cover letter is usually the first document that serves as an introduction to all your documents. It is basically a short summary that accurately describes your CV content. A well-written job application cover letter is supposed to attract the attention of the potential employer to read your CV. Many people don't actually read the entire CV in detail; most of them just scan through the document. Perhaps they try to save time, or maybe they have a lot of applications to go through. While a CV is a document written to market yourself, your experiences, your skills, and strengths, a cover letter is written to target the kind of job you are applying for. When drafting a cover letter, you should consider keeping in mind some of the following qualities:
A cover letter should be more personal but professional, this is because in your CV it's just the professional accomplishments. This is where you get to shine your personality.
One should know that a cover letter is a good chance to create a sense of belonging when you genuinely show your interest in the company by writing something little about it.
A professionally written cover letter should be able to show how interested you are in the position you are applying for. Having a cover letter customized for a position will let the employer know you are intellectually curious.
A great cover letter should at least give you a chance to sit for an interview since you have done a very good job of introducing yourself to them.
Get the Best Cover Letter Writing Services

A cover letter is an important job application document that cannot be ignored and if you don't have skills or maybe skills to draft one, hiring an expert to help you is the best option. Addressing the employer directly will give you a higher chance of winning his attention. A great cover letter mainly addresses the company, the employer, and why that company needs your skills, therefore it should be written freshly every time you apply for a different job for your message to match the requirements of the job you are applying for. A cover letter is a great opportunity to not repeat yourself, write something new about yourself and how you are able to deal with situations. Writing a custom job application cover letter gives you a chance to write about the company, its organizational traditions, and the products and services they provide. This will make you express your interest in them in a genuine manner. A cover letter helps in showing off your enthusiasm and be persuasive enough for the employer to see that you are the best candidate for the job and you are fit enough to match their organizational cultures. Our firm has a team of professionals with expert writing skills who will help with cover letter writing in a professional way. We are able to write in the enthusiasm that will make the employer see how much interested you are with the job position. Allow our expert cover letter writers to help change the monotony in your cover letter and get you to step foot in an interview hall.